News

/

LUKOIL Improves High-Viscosity Oil Production Techniques
LUKOIL Improves High-Viscosity Oil Production Techniques
06.09.2017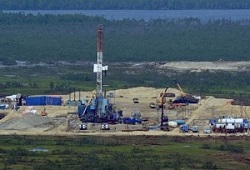 Courtesy of lukoil.com
PJSC LUKOIL tested a new technique of thermal-gas-chemical formation treatment at one of the Usinskoye field wells.
During the tests, special chemical compounds were injected into the oil-saturated layer through separate channels: a solution of ammonium nitrate and sodium nitrite reacted directly in the formation. The result of this chemical reaction was the hot steam-water mixture reaching up to 327 C° that helped increase the fluidity of high-viscosity oil and facilitate its extraction.
The test results suggested a fivefold increase in the well flow rate. No decline in the average well rate has been registered for three consecutive months, which makes the Company believe that the applied technique may be considered promising for introduction at other fields.
LUKOIL is one of the largest publicly traded, vertically integrated oil and gas companies in the world accounting for more than 2% of the world's oil production and around 1% of the proved hydrocarbon reserves. While having the full production cycle, the Company exercises full control over the whole production chain — from oil and gas production to petroleum product sales. The Russian Federation accounts for 86% of hydrocarbon reserves and 83% of hydrocarbon production, with the main activities concentrated in four (4) federal districts: the Northwestern, Volga, Urals and Southern Federal Districts. We employ over 100,000 people who join their efforts and talents to secure the Company's efficient development and market leadership.
Source: lukoil.com
Leave a comment
Empty comments will be rejected
Scroll up