Implementation and Exploitation of Coiled Tubing Technology...
Implementation and Exploitation of Coiled Tubing Technology in "Gazprom Georesurs"
01.12.2016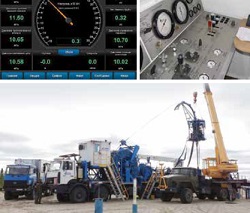 "Gazprom Georesurs" is the largest Russian diversified company in the field of oil and gas service. The main core areas of its activity are:
Exploration geophysics (seismic exploration);
Borehole geophysics (well logging and milling operations);
Special operations in the wells;
Thematic and analytical work;
Production of geophysical equipment;
Research and development work.
"Gazprom Georesurs" consists of fifteen industrial and scientific branches, providing a full range of services to the group of companies "Gazprom" on the whole territory of Russia, as well as in the CIS and foreign countries. The total number of personnel exceeds 4200 people.
The production branches of the Company are located in key oil and gas regions of the Russian Federation, each of which has certain features from geological and climate point of view.
"Kubangazgeofizika" that performs work in the Yamalo-Nenets Autonomous Okrug and Krasnodar Krai using CT technology represents the only manufacturing subsidiary of the Company, which operates coiled tubing equipment.
.....
Full version of the article can be downloaded here.
Scroll up