Performing of Coiled Tubing Drilling Operations
Performing of Coiled Tubing Drilling Operations
01.06.2017
A. ZAHAROVA, Regional Manager, CT Equipment Department, Russia/CIS, National Oilwell Varco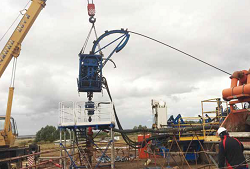 The idea of coiled tubing (CT) drilling is a breakthrough approach of solving problems in the oil and gas industry. The technology itself was developed in 1950s but gained widespread appreciation only in the late 1980s. It allows to perform sidetracking or bottomhole enlargement of oil and gas wells with depths up to 19,685 ft.
The experience of CT application for wells drilling goes back for 3 (three) decades. During this time a set of benefits of this technology in comparison to conventional drilling techniques were identified and borne out by events. The mentioned benefits include:
Reduction of trips duration due to the absence of connections. Application of CT string allows to continuously lower down bottomhole assembly (BHA) without the need to stop the overall process for connection making;
Trips are performed in a safer manner because there is no need to do making up/uncoupling of thread connections and move the tubing string to the drilling floor;
The ability to perform continuous circulation of drilling mud;
The ability to perform underbalanced/balanced drilling;
The wellhead integrity is supported during all stages of well intervention operations, starting from repair equipment assembly rig-up to its rig-down;
Closed working cycle;
Significant improvement of labor conditions of a drilling crew;
Compliance with more demanding requirements in the sphere of ecology during well drilling operations performing, in particular due to smaller-in-size drilling equipment assemblies in comparison to conventional ones;
Significant cost advantages.
.....
Full version of the article can be downloaded here.
Scroll up