We Use the Tertiary EOR Methods on Those Oilfields, Where...
We Use the Tertiary EOR Methods on Those Oilfields, Where Other Techniques Are Not Applicable
01.12.2016
Coiled Tubing Times Journal talks with Vadim Danshin, head of production department of "RMNTK "Nefteotdacha".
---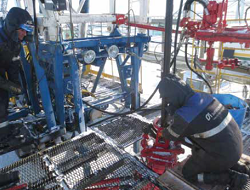 Vadim Danshin was born in 1976 in the city of Abinsk, Krasnodar region. Graduated from Ukhta State Technical University with a degree in "Development and exploitation of oil and gas fields" and Gubkin Russian State University of Oil and Gas (National Research University) MBA programme "Management of oil and gas business."
Work experience in the oil and gas industry – since 2000.
2000–2002 – JSC "Tebukneft", the operator of oil and gas, oil field technician, engineer 1st category of production and technology department.
2002–2012 –TPP "LUKOIL-Ukhtaneftegaz" LLC "LUKOIL-Komi", the chief engineer of the production department, the deputy head of the department of oil and gas extraction, chief technologist, head of oil production.
2012–2014 – LLC "Pechora Energy Company" (KuwaitEnergyCompany), deputy chief engineer.
Since 2014 is the head of the production department of JSC "RMNTK" Nefteotdacha", Moscow.
.....
Full version of the article can be downloaded here.
Scroll up